SOLUTIONS FOR MALLS/SHOPPING CENTERS
Project Introduction
After entering the era of big-data and AI, the customer and customer experience increasingly highlight its importance to the business success. Mall operators and retailers pay more and more attention to customer behavior and customer experience. So as to obtain more advantages in the competition. While, the PCS, people counting system, as an important retail analytics and critical data source, it provides a more effective and reliable decision-making based technical support and data support. An accurate and reliable people counting analysis data give you more customer insight.
BDI TECH adopts video-based people counting system as the solution, and carries out counting analysis and mining on the passenger flow/ visitors traffic data of commercial property, mall, or shopping center. It can accurately count the number of people coming in and out of the entrance, aisles, storeys, and parking area etc. of mall or shopping center and provide the flow direction of the crowd, etc., and with the characteristics of high precision, strong adaptability and low operating costs. Powerful passenger flow/ visitors traffic analysis and management function, it can provide as many as dozens of statements/reports for the user to choose from, and can with the third party software, such as ERP, POS, or CRM system integration, provide data support for the scientific decision of operators.
The System Structure
The People Counting System uses BDI 2D & 3D intelligent video analysis technology to obtain the real-time and accurate people counting for each entrance and each storey of a mall/shopping center; and to achieve the storage and management for all of the people counting datum by deploying a people counting data management (software) server. You could access or management the datum by your LAN, Local Area Network, or a standard web IE.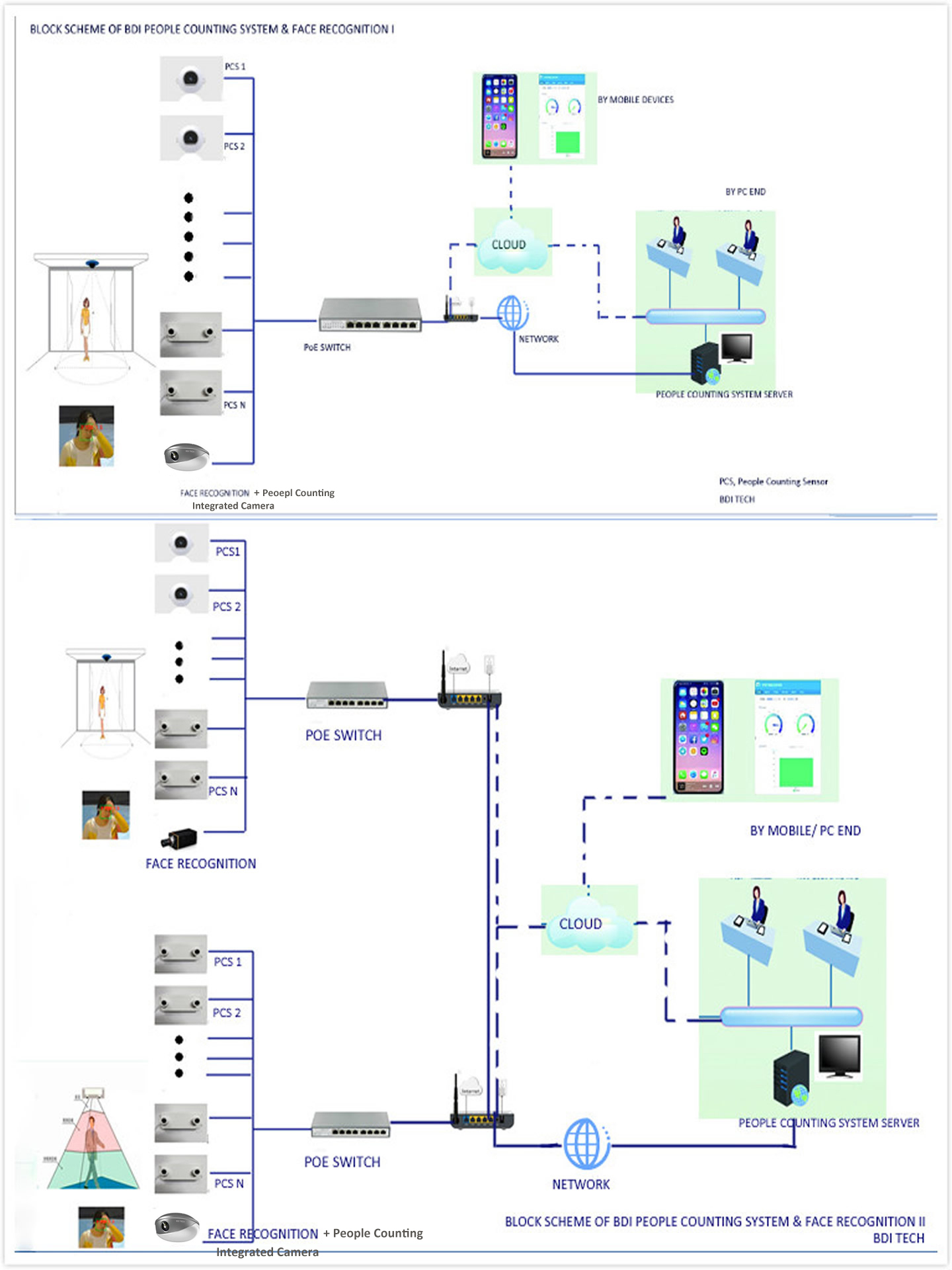 BLOCK SCHEME OF BDI PEOPLE COUNTING SYSTEM & FACE RECOGNITION III
Application Level
For the People Counting for mall/shopping center, there are mainly 3 levels of application.
L1, For the entire mall/shopping center people counting, you need to summarize the counts of parking lots and all of the entrances of 1st floor. So as to obtain the daily total people counting data of entire mall/shopping center; To gain accurately more about the customers' properties such as Gender, Age and Expression for some important area by combining our 2D-FRPCS102 Integrated camera with people counting system.
L2, For the storey people counting, you need to summarize the counts of each escalators and elevators of the storey. So as to obtain the customers and visitor traffic distribution in each storey; And
L3, For some important stores or all of the stores, you need to deploy the people counting sensors at all of the stores. So as to know the visitor traffic of these stores.
Installation Effect
Key Benefits
To gain more insight about customers and visitors traffic flow to gain more shoppers from visitors. Meanwhile, to know more about the mall operation.
Such as:
◆ Accurate, Bidirectional real-time People Counting to meet standards, width and open environment.

◆ Rich and diverse data presentation methods, intuitive reports, diverse types.

◆ Multidimensional data analysis, all aspects of the assessment of visitors

traffic/passenger flow changes and trends

◆ To know the rationality and convenience of mall entrance by analyzing the visitor traffic and its direction.

◆ To improve the rationality of store distribution by analyzing the visitor flow status of main aisle. To fix a reasonable rent.

◆ To improve the promotion and marketing efficiency by analyzing basket size.

◆ To effectively estimate the ROI of promotion and marketing campaign.

◆ To align the resources and property management and maintenance staff.

◆ To improve the service by analyzing conversion rate.

◆ To analyze the attracting ratios and busy degree of each part of area.

◆ To estimate the average selling price and average consuming ability.

◆ To estimate and optimize the promotion and advertising budget.

◆ To decide a reasonable the scale of bonus and coupons as per the number of visitors.

◆ To grip the power hours of each mall/store as per the visitor traffic. Integrated with

◆ To analyzing the visitor traffic status and trend so as achieve a

real-time and effective crowd control

◆ To improve customer experience so as to improve conversion rate, basket size, repeat purchase rate and customer word-of-mouth.

◆ Rich and Powerful visualization BI reports greatly reinforce your data insight and your decision-making ability.

◆ To gain more insight by integrating our people counting system with other 3rd parties BI system, such as POS, CRM, or ERP etc.